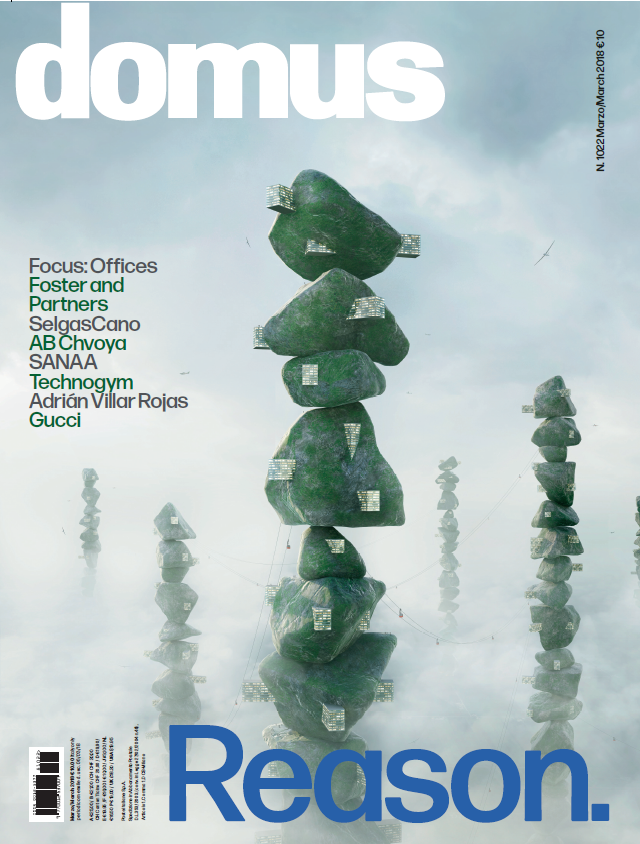 Founded by Gio Ponti in1928, Domus is the Italian brand on architecture, design and contemporary art with the highest international reputation.
Some of the world's most famous names of architecture have edited the magazine in the past, including Gio Ponti, Alessandro Mendini, Mario Bellini, Dejan Sudjic, Joseph Grima. David Chipperfield is the current editor.
Every month, Domus narrates and investigates the architecture and design avant-gardes with a critical mind and special focus on design excellence.
It represents a privileged environment for information and in-depth study for inspired, design-conscious readers. Domus is an inspirational tool and guidance for the evolution of design culture, scientific and aesthetic vision of global design and art communities of architects, designers, enthusiasts and students.
Domus is a monthly magazine (with a combined July-August issue), it is fully bi-lingual Italian and English and is circulated in 89 countries with five local editions in China, India, Sri Lanka, Central America, Germany.
Copy price: € 10.00
Average print run:
60.855*
Average circulation:
48.875*
*Publisher's statement

Publisher Giovanna Mazzocchi Bordone
Editor-in-chief Tadao Ando

Editorial and Advertising Department
Editoriale Domus S.p.A., 20089 Rozzano (Milano), Via Gianni Mazzocchi, 1/3
tel +39.02.82472.253/502 fax +39.02.82472.385
Contact the editorial team
Contact the advertising team
| | |
| --- | --- |
| | % COMPOSITION |
| EDUCATION | |
| UNIVERSITY DEGREE | 79% |
| HIGH SCHOOL | 19% |
| MIDDLE SCHOOL | 2% |
| OCCUPATION | |
| ARCHITECT | 46% |
| ENGINEER | 15% |
| INTERIOR DESIGN | 15% |
| DESIGNER | 10% |
| STUDENT/UNIVERSITY PROFESSOR | 10% |
| ENTERPRENEUR/MANAGER | 5% |
| SOCIAL CLASS | |
| UPPER | 74% |
| MIDDLE | 21% |
| MIDDLE LOWER | 5% |
AVERAGE CIRCULATION
100,00%
Italia
54,30%
Abroad

45,70%
INTERNATIONAL CIRCULATION
100,00%
Europe
47,80%
Africa
0,70%
America
31,70%
Oceania
5,30%
Asia
14,50%
Europe Circulation - not Italy
100,00%
Germany
21,90%
Portugal
11,30%
Spain
10,30%
Swiss
10,10%
Belgium
9,60%
England
8,50%
France
6,40%
Holland
5,00%
Austria
4,90%
Grece
4,80%
other
7,20%

Publisher's statement March 2020


| | | | | |
| --- | --- | --- | --- | --- |
| Month | issue | ad booking | mechanical delivery | newsstand launch |
| January | 1042 | 26-nov | 12-dec | 5-6 jan |
| February | 1043 | 13-dec | 10-jan | 3-4 feb |
| March | 1044 | 28-jan | 13-feb | 1-2 mar |
| April | 1045 | 21-feb | 12-feb | 1-3 apr |
| May | 1046 | 27-mar | 10-apr | 3-4 may |
| June | 1047 | 24-apr | 8-may | 1-2 jun |
| July/August | 1048 | 29-may | 12-jun | 4-5 jul |
| September | 1049 | 09-jul | 20-jul | 1-2 sep |
| October | 1050 | 03-sep | 11-sep | 3-4 oct |
| November | 1051 | 28-sep | 09-oct | 2-3 nov |
| December | 1052 | 26-oct | 13-nov | 1-2 dec |