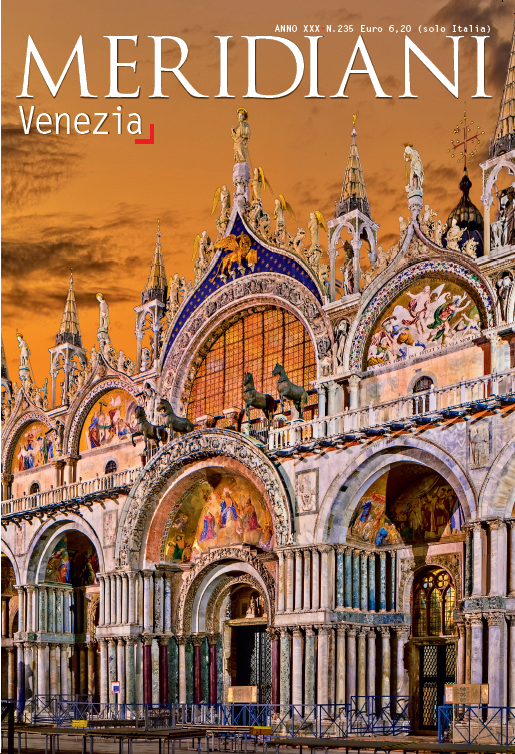 Meridiani has been accompanying Italians to discover the world's most iconic places for thirty-five years, evolving and renewing itself to continue to amaze its readers.
As of the June 2022 issue, it is signed by editor Walter Mariotti.
Meridiani is the monographic travel and culture magazine that not only describes and illustrates the places it features. It tries to understand how places change and to grasp their present as well as their future trends, by listening to the voices of protagonists, by photographing new architecture and landscapes, and recording the latest trends.
Spectacular images, culture, people, adventures, history, curiosities and itineraries stimulate the imagination of the most
Meridiani is a practical, refined, contemporary tool that appeals to a discerning reader, a conscious traveler, eager to learn.
Circulation is maximized by distribution in newsagents and bookshops, in addition to direct sales..
Meridiani is a collectible item that is always kept for future reference.
Average print run :
34,564*
Average circulation :
21,548*
Periodicity :
bimonthly *
* Publisher's statement 2022
Editore Giovanna Mazzocchi Bordone
Direttore responsabile Walter Mariotti
Redazione e Direzione pubblicità
Editoriale Domus S.p.A., 20089 Rozzano (Milano), Via Gianni Mazzocchi, 1/3
tel +39.02.82472.253/502 fax +39.02.82472.385

Contatta la direzione pubblicità

PRINT RUN AND CIRCULATION REGIONAL AVERAGE BREAKDOWN
Publisher's statement 2022
BULK SALES: 0,45%
OTHER: 0,15%
READERSHIP
Publisher's Statement 2022
| | | | |
| --- | --- | --- | --- |
| | Readership (.000) | Composition | Concentration Index |
| | 201 | 100% | 100 |
| Sex | | | |
| Male | 119 | 59% | 123 |
| Female | 82 | 41% | 78 |
| Age | | | |
| 14/17 | 2 | 1% | 20 |
| 18/24 | 8 | 4% | 45 |
| 25/34 | 40 | 20% | 140 |
| 35/44 | 50 | 25% | 136 |
| 45/54 | 39 | 19% | 114 |
| 55/64 | 39 | 19% | 133 |
| over 64 | 24 | 12% | 61 |
| Social Class | | | |
| Upper | 8 | 4% | 194 |
| Middle Upper | 44 | 22% | 197 |
| Middle | 131 | 65% | 96 |
| Middle Lower | 15 | 7% | 47 |
| Lower | 0 | 0% | 13 |
| Education | | | |
| university degree | 81 | 40% | 384 |
| high school | 69 | 34% | 105 |
| middle school | 40 | 20% | 55 |
| primary | 7 | 3% | 24 |