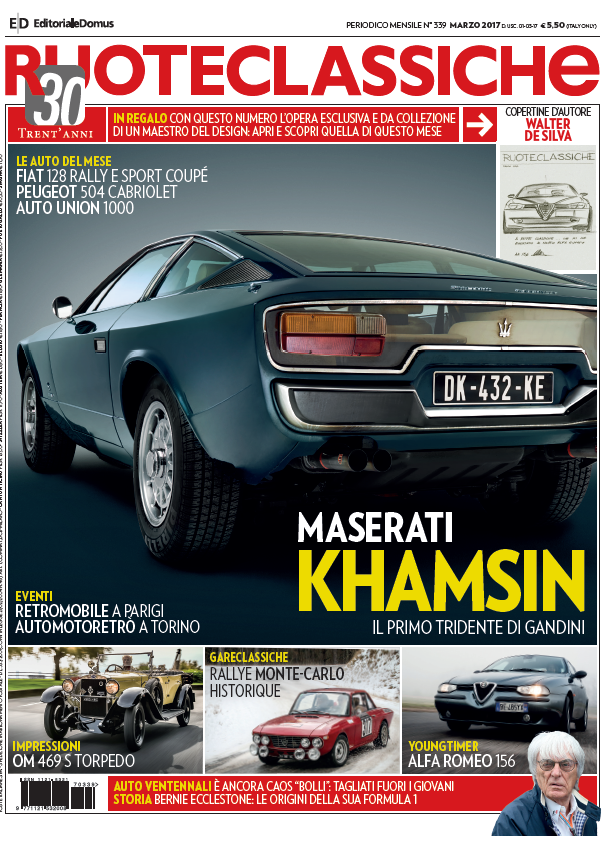 Launched in 1987, it is the first and true classic car magazine in Italy.
It combines history, curious news, road performance of classic cars from around the globe, covering production models, as well as the rarest and highly precious models and one-offs.
It provides classic market information, surveys and propositions aimed at fostering and growing the phenomenon of classic car collection.
It opens the door to facts, tales and life episodes of the automobile and sports world players, through exclusive interviews and high quality images.
It brings together the foremost automotive journalists and players of the classic and vintage car collection world.
It covers great events and the classic car market with full quotations, auction prices, classified ads. It sets the benchmark in classic car trade and restoration.
It appeals to audiences in search for quality, authenticity, care to detail, refined materials, time and manpower values, in all kinds of consumer products.
Ruoteclassiche represents the benchmark for classic car collectors and enthusiasts, and is ideal for all market professionals and individual owners in search for a highly authoritative title. It is also a privileged communication tool for lifestyle brands in pursuit for distinction and excellence, in order to address affluent audiences with a considerable cultural and social standing.
Monthly frequency
Copy price € 5.50
AVERAGE PRINT RUN:
75.000*
AVERAGE CIRCULATION:
55.011*
*Publisher's statement
Publisher Giovanna Mazzocchi Bordone
Editor-in-chief David Giudici

Editorial and Advertising Department Editoriale Domus S.p.A., 20089 Rozzano (Milano), Via Gianni Mazzocchi, 1/3
tel +39.02.82472.253/502 fax +39.02.82472.385

Contact the advertising team
READERSHIP
Affluent audiences with a considerable cultural and social standing, consistent with the title values associated with the consumption of refined and luxury products. Source: reader survey
| | |
| --- | --- |
| TOTAL% | COMPOSITION 100% |
| | |
| SEX | |
| male | 98% |
| female | 2% |
| | |
| AGE | |
| 14/24 | 15% |
| 25/34 | 31% |
| 35/44 | 28% |
| 45/54 | 14% |
| 55/64 | 7% |
| over 65 | 4% |
| | |
| SOCIAL CLASS | |
| upper and middle upper | 31% |
| middle upper | 52% |
| middle lower | 17% |
| | |
| HOBBY | |
| owns vintage cars | 27% |
| uses classic cars | 35% |
| performs interventions on vintage cars | 38% |
| | | | | |
| --- | --- | --- | --- | --- |
| month | issue | ad booking | mechanical delivery | newsstand launch |
| January | 373 | 20-nov | 05-dec | 29-31 dec |
| February | 374 | 13-dec | 10-gen | 30-31 gen |
| March | 375 | 22-gen | 06-feb | 28-1 mar |
| April | 376 | 19-feb | 06-mar | 29-30 mar |
| May | 377 | 19-mar | 06-apr | 30-02 may |
| June | 378 | 20-apr | 07-may | 30-31 may |
| July | 379 | 21-may | 05-jun | 29-01 jul |
| August | 380 | 18-jun | 07-jul | 30-31 jul |
| September | 381 | 09-jul | 17-jul | 30 -31 aug |
| October | 382 | 24-aug | 04-sep | 28-30 sept |
| November | 383 | 21-sep | 05-oct | 30-31 oct |
| December | 384 | 19-oct | 06-nov | 29-30 nov |