Ruoteclassiche.it is the reference website for classic car entusiasts: it offers news and information on classic cars and motorcycles, driver and race events updates, it informs on events and rallies for classic car lovers and collectioners; it includes a trade section.
The website is fully responsive.
REGISTERED USERS:
31.965**
WebTrekk – March 2020 Desktop ** Publisher's statement, March 2020
NewsLetter RuoteClassiche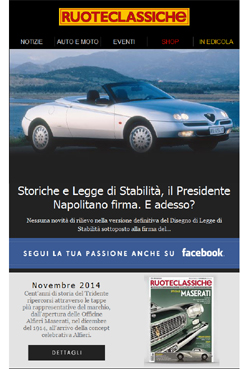 The newsletter is sent out to over 7,500 registered users on Tuesdays.
Advertising format available: box 300x250
*Publisher's statement, March 2020
SITE AUDIENCE
Mostly male (M = 95%, F = 5%), young male ( 35-49 = 45%, 25-34 = 8%). Source: Publisher's statement, July 2017